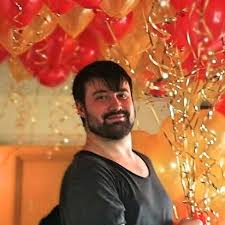 DEAN ROGERS - WORLD'S WORST PUZZLE
This is an episode for anyone who has become so frustrated with their Rubik's Cube that they've ended up unpeeling the coloured squares and sticking them back on to help you solve it!
Joined by incredible escape room auteur Dean Rodgers, Ben and Barry travel from Ancient Greece to musty 90s gamer bedrooms, via the court of King Rudolf of Bohemia and Lewis Carroll's very twisted imagination. By the end of this, you won't look at a black cat, a raven or a fishing rod in the same way again...
Andrew Shaffer - World's Worst Fan Fiction
Let your imaginations run wild - this week we are reading the World's Worst Fan Fiction. Our guest is Andrew Shaffer, New York Times best-selling author and fan fiction parody writer extraordinaire. He tells us about the genesis of 50 Shades Of Grey among thousands of other Twilight fan fiction tales, while Ben talks about sex and Barry dives back in time to some of the earliest fan fiction stories around. It's a very saucy episode - if there isn't slash fiction written about us after this one, then you're all clearly made of wood!
Photo from AndrewShaffer.com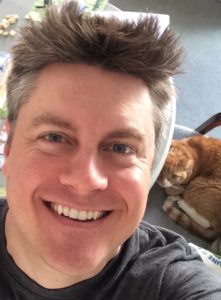 JAMEY STEGMAIER - WORLD'S WORST GAME
It's all fun and games as Ben and Barry welcome Jamey Stegmaier to talk about the World's Worst Game. Jamey is the founder of Stonemaier Games (www.stonemaiergames.com) and in the last decade he has created some of the highest-rated board games in the world such as Scythe and Viticulture. We cast our eyes on a few board games including a plethora of Monopolies, a few drinking games including one which enraged a pope, and a few sexy games whose players range from modern American college kids to repressed Edwardian gentlefolk.
Photo from Stonemaier Games
ELLIE GIBSON - WORLD'S WORST CONSOLE GAME
Video games journalist, stand-up comedian, one half of the Scummy Mummies and expert on 'Dara O'Briain's Go 8-Bit', Ellie Gibson takes on the worst computer console games ever. There are pornographic pixels, long drives with Penn & Teller and a very sexy French game. Oo-la-la!
Photo from scummymummies.com
JOHNNY CHIODINI - WORLD'S WORST D&D CLASS
Spellcasting - AWFUL! We are led through the dark and dingy underworld of the legendary roleplaying game Dungeons and Dragons by writer, performer, video game expert, Eurogamer content-maker, and professional Dungeon Master Johnny Chiodini. With Johnny's expertise we seek out the World's Worst Class (that world being that of D&D, not the stratified capitalist hellscape we're all currently inhabiting). There are notable appearances by the wizards of the Ku Klux Klan, the Chesney Hawkes warlocks and the vagabonds and vagrants of the United States, with shout-outs to Charlie Sheen, Machiavelli, and Cthulu.
Bex LIndsay - World's Worst Toy
This week we enter one of the creepiest world's imaginable: the nightmarish dimension of terrible toys. With award-winning children's radio host Bex Lindsay as our guide we uncover the dark truth about the Beanie Babies, a darker truth about how certain people like to make babies and quite a lot of toys that you absolutely must keep away from babies.
Photo from Challenge Radio
PATREON SPECIAL: JOURNEY AROUND THE MONOPOLY BOARD WITH PAUL FLANNERY
Pull up a chair and prepare for some world class arguments, trivia and brutal no-holds-barred capitalism as Ben and Barry present their first ever Patreon exclusive. We promised that when we got to 10 Patreon donors we'd do special episode and here it is.
We revisited the world's worst board game - Monopoly - with former guest Paul Flannery and played a game so you guys never have to again. On the way we journeyed through all of the destinations on the London board and uncovered the worst stories possible in all of the locations, including kinky Czech classical musicians, brutal East End gangsters, bear-baiting, Boudicea's grave and how MI5 used Free Parking to win the war.
We didn't want to subject you to the full experience of over two hours of Monopoly gameplay, so consider this an edited highlights reel.
PAUL FLANNERY - WORLD'S WORST BOARD GAME
Actor and creator of the cult hit 'Knightmare Live', this week's guest Paul Flannery is a nerd's nerd who loves a good board game - and hates a bad one. We discuss family favourites, political incorrectness gone mad and a board game designed as therapy.
Photo from Knightmare Live
BEC HILL - World's Worst Superhero
Bec Hill is a comedian and a former host of Sky's 'DC Fancast', the perfect guest to discuss dreadful superheroes. Bec creates her own entirely new pantheon of X-Men while Ben and Barry explore old comics for heroes armed with super weapons ranging from bees to their own limbs.
Photo from BecHill.com